Federal's Sharon Pattern
Written by Rosemary Trietsch
The Rose of Sharon in my yard are just beginning to bloom. They're a quick growing hedge if you should need one - I planted them 4 years ago when the neighbors behind me put up a lovely wood fence and then stained it a burnt orange color. Its flowers are the closest thing to a tropical Hibiscus that you'll find in a plant indigenous to the North. I think that's why it always strikes me as odd when people tell me they collect "Rose of Sharon", as the flowers on Federal's Sharon couldn't be farther from a real Rose of Sharon. The confusion comes because collectors used "Cabbage Rose" as the name for the pattern before the official name was discovered: the jump from 'Sharon-Cabbage Rose' to 'Rose of Sharon' is easily made. After all, a rose by any other name could be one of several different patterns. This month, let's focus on the rose we call Sharon.
In last month's column, we explored Federal's Mayfair and Rosemary patterns. Copyright problems with the 'Mayfair' name led to the pattern being redesigned twice, renamed 'Rosemary' and finally discontinued after a very short production period (1934 to1936). In 1935 amidst all this confusion, Federal introduced Sharon, another pattern using an open rose motif. It proved to be the most successful of the three and remains one of the most sought after depression patterns even today.
When you look at Sharon, Mayfair and Rosemary together, the 'family resemblance' becomes clear as each uses a variation of the same rose as the basis for the pattern. But when taken together, it also becomes clear that Rosemary is a hybrid of the other two rather than a unique pattern. Mayfair, with its scalloped edges and intricate lattice design is quite distinct. Sharon, with its smooth edges and fancy rose garland is equally unique. But Rosemary incorporates shapes from both lines and a simplified version of the Mayfair pattern, while adding nothing uniquely its own. It seems pretty clear that Federal had Mayfair lined up as a new pattern for 1934 with Sharon to follow in 1935. Because it had already appeared in advertisements before they had the copyright on the name, Mayfair couldn't be renamed without being redesigned. But Federal was never quite successful with the makeover and both Mayfair and Rosemary were discontinued. Sharon, the lone survivor of the 'war of the roses', became a best seller and production continued through 1939.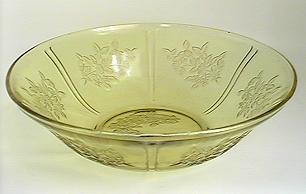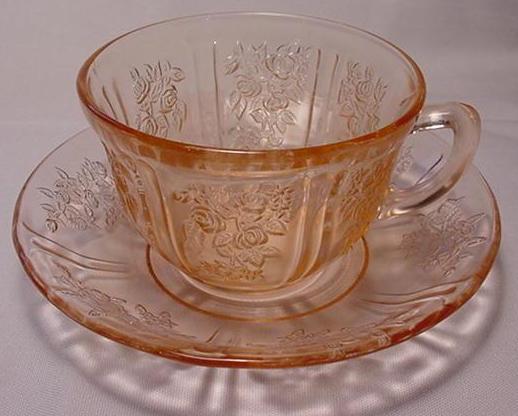 Sharon was produced in amber, pink, and green. Amber, called "Golden Glow" in the original catalogs, is the most plentiful color; pink, or "Rose Glow" is the most sought after color, and "Springtime Green" is the hardest color to find. There are also three pieces available in crystal: the cake plate, footed tumbler, and 7-½ inch plate. (Incidentally, some cake plates have an indentation for a metal lid while others are completely flat. They may also be found with the flowers painted on the underneath side.) You can put together full service in amber or pink without too much trouble, though pink will cost you about twice as much as amber. Even at that, the cost is not too prohibitive: a five piece setting that includes the cup & saucer, bread & butter, salad and dinner plates runs about $75 in pink and $45 in amber. You can expand your service to include a 5" berry bowl, 6-inch cereal bowl, and your choice of cream soup or flat soup bowl. Of these, the flat soup is the hardest to find and costs about $60 in either color. For collectors of green Sharon, patience is a necessity as there's not much around. Fortunately, there aren't too many people collecting it so prices, though higher than pink, are still within range – that same basic setting runs about $90. With green, it's not price of the piece, it's finding it at all. (Flat soup bowls, footed tumblers, and the elusive cheese dish aren't available in green.)
Well, having just mentioned the cheese dish, it's time to get into the confusing part of collecting Sharon. Picture this: You're at a flea market and you see a 7-ish inch Sharon something that looks like a soup bowl or a butter bottom and there's no top with it. Do you pay the $16 and take it home or leave it there for the next person figuring it's overpriced? The answer: buy it, whatever color it is. (Isn't that always the answer?) The Sharon flat soup ($60) measures 7 ¾ inches in diameter and is just under 2 inches deep. The butter dish bottom ($25 to $40) only measures 7 ½ inches in diameter and is shallower, about 1 ½ inches deep and has an indentation around the inside edge that keeps the top from slipping around. However, Federal made a jam dish from the same mold as the butter bottom by removing this indentation. Jam dishes are about $45 in amber or green and over $250 in pink, so you can see your $16 would be well invested in any case.
Okay, let's change things a little. You're at the same market and someone has an amber "Very Rare Sharon Cheese Dish and Cover - $200." (If you prefer, it can be a pink one for $1000.) What do you do? First, take off the lid and look at the bottom as the cheese dish and the butter dish use the same top. You already know that the butter bottom is shaped like a shallow bowl. The cheese dish bottom is a 7-1/2 inch salad plate with a raised ring of glass to hold the top in place. (I know of two instances where cheese dish bottoms were found mixed in a stack of salad plates, so be on the lookout for crooked stacks of plates – that raised ring makes for difficult stacking.) Federal only listed the cheese dish in one catalog and marketed it as a promotional item for sale to cheese companies. Because of this, there aren't many around. If your examination confirms that it is indeed a cheese dish and you want one in your collection, grab it, as you won't soon have another chance.
Now that you can tell the difference between the cheese and butter dish, and the soup bowl and jam dish, there's one more thing to consider before you buy: Reproductions. In the late 1970's, a blue butter dish turned up and collectors went crazy, as Sharon wasn't produced in blue. The cheese dish turned up soon after, and upon closer inspection, both turned out to be fakes. In all, 6 Sharon pieces have been reproduced: the salt & pepper, the sugar & creamer, the covered candy, the butter dish, and the cheese dish. If any of these turn up in a color other than amber, green or pink, you know immediately it's a fake. Unfortunately, the three original colors were also reproduced, so you have other criteria to check. In general, the new amber is too dark while the new green and pink are too light. The quality of the new glass is terrible: there are lots of bubbles and the mold work is sloppy and poorly designed. Your DG sense should tell you something's wrong when you pick up one of these fakes, but if you're not sure, let's get specific. On new shakers the pattern is crudely done; the roses look more like concentric circles than open blossoms, and the rosebud that tops the design looks like a pinwheel instead of a bud with three leaves. The pattern is equally bad on the candy dish and sugar & creamer, with the mold line on the creamer running to the side of the spout rather than down the center. The sugar bowl lid is the easiest way to tell real from fake: the old lids have a mold seam running around the edge of the knob while the new lids have a smooth knob. If the sugar bowl has no lid, look inside where the handle attaches to the bowl: old handles make a teardrop shape where they meet the bowl while the attachment in new ones is a circle. The candy dish is so crudely done that the bubbles and poor mold design should give it away immediately.
The butter dish and cheese dish give collectors the most concern, but they are very easy to expose. As both use the same top, check it first. Old butter/cheese lids have such a squat knob that your fingers cannot grasp it securely. When you pick up an old lid by the knob, you can barely get the tips of your fingers into the space between the knob and the flat surface of the top. (This tenuous grip accounts for the shortage of tops today.) The counterfeiters fixed this problem: on new lids the knob is stretched up so you can wrap your fingers safely around it. If you can grasp it comfortably between your index and middle finger, put it down and walk away. Now, chances are good that a fake top will be on a fake bottom, but just to make sure…. On both of these bases, the glass is too thick and of poor quality. Fake butter bottoms have a very sharp inner rim to hold the top in place – on the original, this lip is less pronounced so the top slips off more easily. (Yet another problem corrected by the counterfeiters.) On a fake cheese dish, the bottom is a bowl with a rim instead of a flat plate. Again, trust your experience and instinct when you're checking a piece that may be a reproduction: your DG sense is more in tune than you might think.
Sharon is still plentiful enough that completing a set is possible to do within this lifetime and without a second mortgage on the house. Flat soup bowls, the jam dish, pitchers and tumblers, will require some hunting but you should be able to track them down. The pitcher comes with and without an ice lip and remarkably, it's the plain variety that's slightly harder to find. Tumblers were made in 9-oz and 12-oz size, and come thick and thin. (The thin ones look mold blown while the thick variety looks pressed.) The thick ones are harder to find; of course, if you're willing to mix thick and thin, you'll complete your set faster. The 15 oz footed tumbler was added to the line in 1937 and so is the scarcest of the three sizes. Even at that, perseverance should turn up enough to use. (I know folks who, frustrated that they couldn't locate enough of these tumblers quickly, use them as vases to accent their table.) Finding a cheese dish will test your patience, and if you collect pink Sharon, be prepared to spend in the $1500 range for one.
As patterns go, Sharon remains one of the most popular. The colors and pattern are vibrant: Sharon won't fade into your tablecloth like some depression era dishes. The glass is thick and feels substantial so you don't have to be afraid to use it – even with clumsy relatives. Though the dinner plates are a little small by today's standards, the serving pieces are of wonderfully generous proportions. (So you take seconds; we all eat too much nowadays anyway, right?) If you enjoy having roses on your table all year long, Sharon will do quite nicely. Think about it: for the cost of a dozen roses, you can buy 1 pink or 2 amber place settings – and think of how much longer you can enjoy them!