Moderntone
Written by Rosemary Trietsch
In the 1930's, General Mills Food Corporation hired Hazel Atlas Glass Company to produce a cobalt blue line of Shirley Temple items. Just as production had reached full swing, General Mills cancelled the order, leaving Hazel Atlas holding huge tanks of blue glass. In last month's Shards column, we learned that cobalt Royal Lace was born out of this excess, but Hazel Atlas also produced Moderntone and Newport from the same vats of Ritz Blue glass. In fact, the Moderntone dinner plate was used as part of the Shirley Temple line. (I guess you could say we have General Mills to thank for three beautiful patterns – as well as Cheerios.) This month, we'll take a look at Moderntone and save Newport for May.
Moderntone was produced from 1934 to 1942. The earliest production was probably crystal as we know that Hazel Atlas didn't produce Ritz blue (cobalt) much earlier than 1936. There are a few pieces that turn up in pink or green transparent, mainly tumblers and ashtrays. Actually, there is no true Moderntone tumbler with the 'wedding ring' design, though there are two different style tumblers that were marketed along with Moderntone that collectors today accept as part of the set. (Remember, Hazel Atlas was known as the "World's Largest Tumbler Factory" in 1928.) One style has a rayed bottom, thin, vertical panels, and 3 horizontal bands close together about 2/3rds of the way up. The other style has no panels, a plain base, and 4 evenly spaced horizontal rings that divide the tumbler in quarters. The paneled tumblers come in 1 ½ oz, 5-oz, 9-oz, and 12-oz sizes, and all are hard to find. The plain tumbler is a bit easier to find, though it only shows up in the 9-oz size, and that's probably why collectors prefer the paneled style.
Cobalt is the most sought after color in Moderntone, but then there aren't many cobalt depression patterns to choose from. (Mt. Pleasant, Moderntone, Newport and Royal Lace - if you can afford it – make up the menu.) Because Depression glass and cobalt glass collectors seek it, Moderntone prices continue to rise and hard to find pieces remain in short supply. Competition aside, condition is the biggest obstacle facing Moderntone collectors. Since the pattern is on the outer edge and not the center of the plates, use marks and scratches are very obvious. The same holds true for the serving platters and sandwich plate. (At 8 7/8 inches, the dinner plate is small especially by today's standards. Judging from the amount of wear usually found on them, it's safe to say that most people used the 10 ½ inch sandwich plates as dinners.) Bowls have a flat edge to bring out the pattern, but that means they have sharp inner rims that are prone to chips; thus mint condition bowls bring premium prices. Collectors often face the dilemma of finding a rare piece they need in less than perfect condition. Whether they buy it usually depends on how heavily used the piece is and how long the collector's been searching for it.
The metal lids found on Moderntone items confuse many people. Hazel Atlas did not make a glass lid for the butter dish, cheese dish, sugar bowl or mustard jar. Rather, they sold Moderntone items to other companies who added the metal lids and sold them themselves. This was an easy and economical way to expand the line as no new molds had to be made: pieces already in production worked just fine. The mustard jar was made by adding a metal lid to the custard cup. (These custards also made the Moderntone punch set when used as cups along with a 9 ½ inch Hazel Atlas mixing bowl in a chrome stand.) By fitting the 6 ¾ inch salad plate with a wooden cutting board and metal lid, it became a cheese dish, and the butter dish is essentially the 6-½ inch cereal bowl with a lid. Finally, if you look at page 132 in Florence's 13th Edition, he shows a reprint of an original certificate that could be used to buy Moderntone dish sets. Notice the sugar bowl is 'topless', indicating how Hazel Atlas marketed them. This explains why so many sugar bowls are found without lids.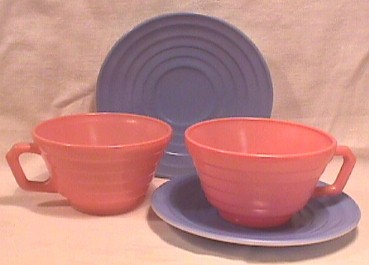 There are some elusive pieces of Moderntone that are missing from many collections. The cheese dish, butter dish and sugar bowl cover are probably the most sought after items – partially because so many people are still looking for the 'real glass cover' as I just explained. Perfect sandwich plates are few and far between, again because so many folks used them for dinner plates. But the 12-inch oval platter, flat soup bowl and 6-½ inch cereal bowl are truly hard to come by, and finding any of them in perfect condition is even more difficult. The ruffled cream soup bowl, which Weatherman calls a handled nut bowl, is another hard to find piece. As the crimping was done by hand after the piece came out of the mold, fewer of them were made and no two will be exactly the same.
Some time around 1937, Hazel Atlas came out with a color they called Burgundy, but we refer to as amethyst. (They had been trying to come up with red glass but never quite got it right. The name 'Burgundy' may have been wishful thinking on their part.) Hazel Atlas used this new color for Moderntone as well as Newport, and these are the only two choices you have if you're going to collect an amethyst Depression glass pattern. (Remember, Moroccan was made in the 1960's.) Although cobalt Moderntone seems much more prevalent than amethyst, prices for amethyst pieces are a little lower because it isn't as widely collected. You can put together full amethyst sets, though the cheese dish, butter dish and whiskey tumblers have yet to turn up.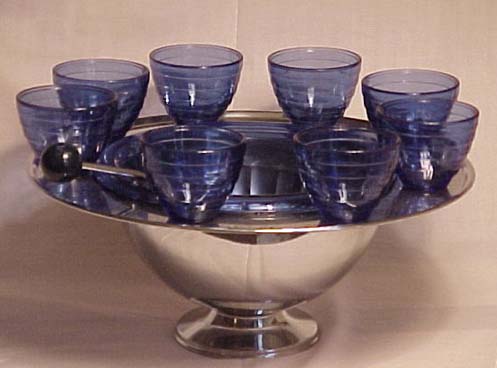 During the 1940's, Hazel Atlas used the Moderntone molds to produce a platonite line of dinnerware. Platonite is an opaque white glass that Hazel Atlas had been using in their kitchenware since the early 1930's. The earliest pieces made in this color show opalescence under a strong light, while later pieces are fully opaque. Platonite Moderntone was made from the same molds as the transparent colors, the only change being redesigned bowls without rims. It was decorated in many fired on color combinations and sold in mixed color sets. Weatherman says that the orange, blue, yellow and green set was called "Carnivalware" and produced as early as 1938. This seems likely as the colors look very much like the original Fiesta colors Homer Laughlin produced in 1936. It's not such a far stretch to think that Hazel Atlas was capitalizing on the success of 'Fiestaware' with it's own 'Carnivalware.' Pastel Moderntone was made in sets of pink, green, blue and yellow in the 1940's. The most popular, though hardest to find, of the platonite sets is known as "Deco." It's white with blue or red trim, and is sometimes found with a Japanese Willow design in the center. (Again, Hazel Atlas tried to capitalize on the popularity of the Blue Willoware that was all the rage in diners of the time. Remember the "Blue Plate Special"?)
Finally, in the 1950's Moderntone had one last incarnation when Hazel Atlas used the pattern as the basis for it's "Little Hostess Party Dishes." Sets were sold in many different color combinations, including the pastel colors of the 1940's and the 'Sierra' colors of turquoise, gold, gray and rust. In a way, these Moderntone child sets were a return to the roots of the pattern, as Hazel Atlas had made "Little Deb" lemonade sets in the early 1930's. These boxed sets included four crystal Moderntone shot glasses in a metal holder and a crystal Colonial Block creamer. Though a few of these pitchers have turned up in cobalt, (some with Shirley Temple's picture on them) the set was never sold in that color. I guess Hazel Atlas had more important things to do with all those vats of blue glass than make children's lemonade sets – things like Royal Lace and Moderntone and Newport…. Ah, but that's next month's subject.