Laurel
Written by Rosemary Trietsch
People collect a particular Depression glass pattern for many different reasons. Some folks inherit a set, and nostalgia makes them want to replace the missing pieces that were broken through the years. Others stumble on a box of glass at a garage sale priced so low that it's silly not to buy it. Some people see a pattern, a color, or a certain piece - and it's love at first sight.
But with all the people I've talked to about glass, my Dad is unique in his "Why I collect…" reason. After years of careful study and much experimentation, he decided to collect French Ivory Laurel because it's the pattern on which spaghetti and meatballs look best. Oh, he considered Indiana Custard and Petalware, but they just didn't meet his criteria. Please don't ask me to explain these criteria, as they're very complicated and I get a headache just thinking about them. I'll just tell you about a very lovely pattern by a very interesting company.
McKee Glass company has been around since the mid 1800's. The company began in Pittsburgh in 1853 and moved in 1888 to Jeannette – which was named for the wife of McKee's founder. Although it's changed names a few times since then, McKee is still producing glass today. (Jeannette Glass Company bought them in 1961 and moved their operation into the McKee factory. McKee Glass is now a division of this larger company.) In its early years, McKee became well known for its beautiful pressed glass. Brittanic, Star & Pillar, Barberry, Beaded Tulip, and Fern Garland are just a few of the patterns they produced. If you look in any book on Early American Pattern Glass, you'll find many more. (EAPG dates from the mid 1800's to about 1915, and consists mainly of decorative and serving pieces – vases, sugars & creamers, spooners. It was usually made in crystal, and sometimes flashed, gilded or painted decorations were added. Colored and opaque EAPG is rare and quite expensive.)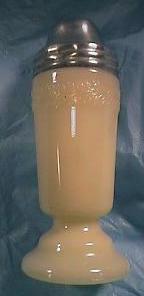 In the 1920's, when the focus of glass production moved from crystal to color, McKee was among the first to have colored glass on the market. Yet by the late 1920's when the other glass houses were fully automated, McKee was still hand pressing its wares. This may be the reason that McKee focused their efforts on kitchen and oven glass instead of dinnerware lines. (McKee didn't introduce automatic production methods until the 1940's.) When the depression hit, it was the popularity of McKee's Glasbake line and opaque kitchenware that carried them through. Then, early in the 1930's, McKee introduced Laurel dinnerware in the same opaque colors that they used for their kitchenware, hoping that the popularity of the colors would carry over and make it a success. If today's market is any indication of past performance, McKee had hit the mark.
Seville yellow, Chalaine blue, and Skokie green are the names McKee gave to their opaque kitchenware colors. These colors underwent slight changes when they were used for Laurel dinnerware. Skokie is the name for McKee's jadeite colored kitchenware. It's a beautiful opaque jade color that has opalescence when held to a light. When McKee used it to make Laurel dinnerware in 1931, the name was changed to Jade Green even though the color was unchanged. Seville is the color name for McKee's opaque yellow, which can vary from a rich, opalescent yellow to a creamy custard sort of yellow. (The opalescent yellow is more highly sought than the creamier version – which is sometimes confused with custard kitchenware.) In 1933, McKee skimmed this creamy color off Seville and called it French Ivory. You'll sometimes find French Ivory Laurel with green or red trim, though it's usually worn in places from years of use. Chalaine blue kitchen glass is the rarest of the three, and once you've seen a piece or two, it's easy to understand why so many folks are willing to pay so much for it. It's a pale, turquoise blue that, like Seville and Skokie, glows opalescent in the light. In 1936, McKee made Chalaine a little more opaque and Poudre Blue Laurel was born. Not all pieces were made in Poudre Blue, but if you're really lucky, you can put together a basic table setting. (Unlimited funds help too, but infinite patience is a must as it turns up a piece at a time rather than in sets.)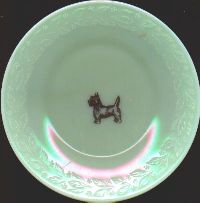 Laurel is available in all the usual pieces – cups & saucers, sherbet, salad, dinner and grill plates, berry and cereal bowls, footed sherbet, and two styles of creamer & sugar. These pieces could be considered 'common'. Serving pieces such as the oval platter, covered cheese dish (the bottom for this is the salad plate) and large serving bowls are harder to find. The soup bowl, tall sherbet, salt & pepper, and tumblers in either 9 oz or 12 oz are coveted prizes. Shakers have a tendency toward poorly molded patterns, probably because they were hand molded and the pressure varied depending on the time of day and the stamina of the workman. I've found the same holds true for the tumblers, though the half dozen or so that I've been lucky enough to find may not be representative of the majority.
McKee used the Laurel pattern for a set of children's dishes that are perhaps the hardest to find of all the Depression era children's sets. Made in French Ivory and Jade Green, they come plain, trimmed with red, green and orange rims, and decorated with black Scotty dogs. Given the huge number of Scotty collectors, children's dish collectors, and Laurel collectors, there just aren't enough Scotty Dog Laurel sets to go around. The hunt goes on, however, and the prices paid for these rare little treasures keep going up.
Laurel collectors often combine the different colors available to give them enough of their pattern to use, but then this is true of many of today's collectors. As Depression glass grows scarcer, collectors are forced to become more creative to make up for the lack of available glass. This is a strategy that Laurel collectors have already put into practice. Many complete their dinner service in one color and then grab serving pieces in whatever color they can find. Others mix and match all the colors as they really compliment each other beautifully. Of course, you can put together a service in a single color of your choice – like my Dad. However you collect your glass, remember that the most important thing is to use it and enjoy it. Start your own family traditions so that years from now your grandchildren will treasure your collection not only for what it is, but because it has become a special part of what they are.