Mt. Pleasant
Written by Rosemary Trietsch
This month, I'd like to look at a pattern I've always loved; namely, Mt. Pleasant, or 'Double Shield', by the L.E. Smith company. My fascination with it began when I found a pair of double candlesticks in a ruffled bowl. They were on a shelf behind a furnace in an old house, and were covered by a ½ inch of dirt. I carried them up to the tag sale people, who refused to touch them, (in the light, it looked like I was buying a bowl of topsoil) but still charged me $10. When I got the mess home, I put them on the grass, hosed the dirt off and found black glass underneath. It was the first time I had ever seen black glass and it was magical. Of course I had to know more about it and the more I learned, the more wondrous my candlesticks became.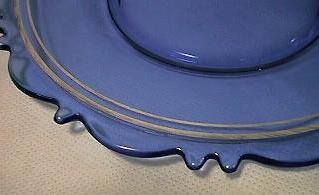 The early history of the L.E. Smith company reads more like a folk tale than a company record. According to Weatherman, Lewis E. Smith was a sometimes-employed chef who found himself in Mt. Pleasant, Pennsylvania in 1907. Armed with his special mustard recipe, he took over an abandoned glass factory in order to make containers for his secret sauce. He became so enamored of the glass making process however, that he spent all his time producing glass kitchenware. As the story goes, Lewis invented the glass percolator top, the first glass mixing bowls, a redesigned reamer, and – my personal favorite – a "Glass Sanitary Drinking Fountain for Chicks or Fowls." In 1911, after establishing a thriving business, Smith took his mustard recipe and left without a word. Thankfully, the company continued operating and subsequent owners kept the name. (After all, what could be easier to spell than 'Smith'? Besides, Lewis seems almost a folk hero when you think about it: he comes into town, builds a thriving business in an abandoned factory, and then vanishes into the sunset. "Legendary glass by a legendary man" makes a nice advertising slogan, don't you think?)
Like all the other glass companies of the time, L.E. Smith began producing colored glass in the mid 1920's. Pink, green, amber, yellow, amethyst and cobalt were being made as early as 1926. But in the late 1920's, they hit upon a formula for black glass that set them apart from other manufacturers of the time. This black glass, which shows amethyst when held up to a light, has proved to be the most collected of L.E. Smith's wares. The Mt. Pleasant pattern was perhaps the earliest dinnerware set that you could collect in black. In fact, many people who collect black glass today don't realize that they've assembled a collection of Mt. Pleasant. They're often amazed to find that the pattern has a name and that other pieces are available. (This is also true of cobalt collectors, as Smith's cobalt production was almost as prolific as their black.) Mt. Pleasant can also be found in pink, green, crystal and white, sometimes decorated with decals, silver bands and overlay, or painted, etched, and enameled designs. Cobalt and black remain the predominant colors, however.
The Mt. Pleasant pattern was produced from some time in the 1920's until 1934. This inexact production date is a perfect example of the problem that collecting Mt. Pleasant poses, for L.E. Smith was not precise when it came to naming shapes, patterns, and line numbers. If you look through the L.E. Smith catalog listings, the Mt. Pleasant shapes appear on different pages with different names. In fact, in the company catalog listing that shows the Mt. Pleasant pattern, the plate pictured is from their "Do-Si-Do" line, while the crystal waffle cup shown in the 'Do-Si-Do" picture is now considered a Mt. Pleasant piece (see HMW2, page 318). Pieces of Mt. Pleasant turn up with shape numbers instead of a pattern name in the listing of glass L.E. Smith made exclusively for F.W. Woolworth Company. Because of this, determining what the company considered a true "Mt. Pleasant pattern" piece is almost impossible.
Now, nothing makes today's collectors crazier than variation. People have been driven insane because of the color variations of their ultramarine Swirl plates. Others have been reduced to tears over the 1/8-inch difference that's common in American Sweetheart plates. But trying to collect a pattern that isn't listed the same way twice by the company that made it can lead to bloodshed. To prevent most of this carnage, collectors have settled on 3 characteristics to 'define' the Mt. Pleasant pattern. Pieces may have any combination of the following:
1. The edges may have a scallop pattern that alternates one large scallop, 2 small points, another large scallop, and one small point, as pictured.
2. There may be a sort of shield pattern raised on the glass, usually arranged symmetrically on the piece. It's this design that gave Mt. Pleasant its nickname, "Double Shield."
3. If a piece has handles, there may be an S scroll design molded on the handle. (Cups, creamers, and sugars have solid, undecorated handles.)
4. None of the above. HUH???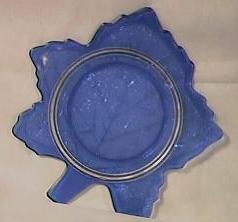 I know I said there are 3 characteristics, so what's with number 4? There are items in the Mt. Pleasant listing that don't have any of the above, but are still part of the Mt. Pleasant line. The 9-inch grill plate is perfectly round with stippling at the edge. Although it's also part of Smith's 'Homestead' line, it's found in cobalt and black as part of Mt. Pleasant. The leaf plate comes in 8 inch and 11 ¼ inch size. They have no scallops, handles or shields, but are Mt. Pleasant nonetheless. The same is true of the vase and the 4 7/8-inch bowl, which have a square pedestal base while other footed Mt. Pleasant items have round bases. Finally, the salt and pepper shakers are plain, with a round foot and no shield. If you're lucky enough to run across a collection of Mt. Pleasant that's still in the hands of the original owner, any of the above pieces may be with it. It's happened to me twice and both times it was all purchased together in the 1930's – including these uncharacteristic items. What do we learn from this? If it's L.E. Smith glass and you like it, by all means add it to your Mt. Pleasant collection!
Three years ago, I began a collection of Mount Pleasant. I had managed to put together a desert set in black amethyst and remember the first time I used it. Everyone complained. "Coffee tastes funny in black cups and the handles are uncomfortable to hold. The pastry would have looked much better on 'regular' plates and how come the plates are square and the saucers are round?" Patiently, I explained to my uneducated guests that this was a Depression glass set, the color was black amethyst as it looks purple when you look through it in the light, and that shapes were often mixed within a setting. They were unimpressed. I next used my desert set with my family - who knew what it was - figuring I'd have an easier time of it. They just came right out and said that black plates didn't do it for them and next time I should use the Candlewick. Or Cameo. Or Styrofoam. Anything else would be fine.
I finally sold my desert set and find comfort knowing that it's living in a home where it's used and appreciated. But I kept my center-handled server and footed mayonnaise bowl and enjoy using them every chance I get. As I still have the candlesticks, and that makes 3 items in the pattern, I can still claim to collect Mt. Pleasant. Someday, I'll add a complete service – for one.