Collecting Vernon by Indiana Glass
Written by Rosemary Trietsch
True story. The setting: my kitchen, early evening, as my husband and I prepare dinner. The conversation:
"I've got to get my moving on my article for this month."
"What are you writing about?"
"Vernon."
"Vernon?"
"Yeah, it's a pattern by Indiana Glass that just had a number so Weatherman named it 'Vernon' after her husband."
"Good thing she didn't call him 'snookums'."
I spent this past summer working on my research library, tracking down the early volumes on Depression glass that Hazel Marie Weatherman wrote as well as the Price Trends she put out afterward. It's fascinating to follow the evolution of information from 1969 to 1984 on the patterns we're so familiar with. Every year, Hazel added new pieces to the listings, corrected measurements on things already listed, and issued warnings about reproductions that had entered the market. Yet with all the new material that she uncovered, (and we continue to uncover), the information on Indiana's Number 616 has remained virtually unchanged since 1969, when Hazel first named it "Vernon" in her "Guidebook to Colored Glassware of the 1920's and 1930's."
Indiana Glass Company has been around in some form or another since the late 19th century. Originally part of the Ohio Flint Glass Company and later sold to the National Glass Company, Indiana finally incorporated in 1907 and has been in operation ever since. Their first lines of tableware were molded by hand and consisted of heavy, crystal glassware made with 'tea rooms and soda fountains' in mind. Avocado (No. 601), Tea Room, Pyramid (No 610), and Old English (Threading) appear in company records from 1923 to 1933 and were among the first patterns Indiana made. Color was the next addition, with green and amber beginning in 1925, pink in 1926 and topaz/yellow in 1930. Finally, in the late 1920's, when mechanization came to the glass factories, Indiana added thinner, mold etched dinnerware lines to their repertoire. Lorain, Horseshoe (No. 612) and Vernon (No. 616) all date to this production period – from 1929 to 1933 – and are the only three mold etched patterns Indiana ever produced.
For a brief time, the Indiana Glass Company was successfully producing both machine made and hand pressed glass. Unfortunately for us, the Depression seemed to hit the Indiana factory very hard, and by 1933 they had ceased production of all of the above patterns as well as pink, yellow, and green colored glass. Today, all of them are in short supply, with No. 616 the most limited of the bunch. Manufactured from 1930 to 1932, No. 616 can be found in crystal, yellow and green – if you're lucky. There are only seven different pieces available in the set: a cup and saucer, sugar and creamer, 8 inch luncheon plate, 11 ½ inch sandwich plate, and a footed tumbler. You can make a lovely luncheon service or desert set, which was probably Indiana's intention when they marketed No.616. Collectors who are lucky enough to find them, use the 11-½ inch sandwich server as a dinner plate, thereby expanding the possibilities.
The trick with 'Vernon' is not figuring out how to use it, but finding it in the first place. There is so little of it around that it prompted Hazel to remark,
"Still this pattern is so scarce, it is practically invisible. Wouldn't you like to know the story behind it – why Indiana saw fit to discontinue so exquisite a design after so short a time? I surely would." (Price Trends, 1973)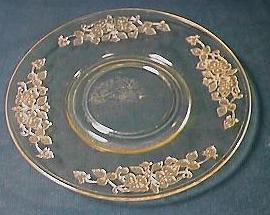 In 1971, Sandra McPhee Stout says, "This was a tea company premium and may have been a premium for other outlets as well. Only ten items have shown up to date." Now, much of the Depression glass we have was used as premiums for one product or another, and this may explain the relative scarcity of No. 616. Perhaps Indiana produced a small amount of it to fill this tea company's small order. Perhaps they used No. 616 to fill the premium order because they had hadn't made much of it in the first place. We may never know.

What's more intriguing, however, is the statement that 'ten pieces have shown up to date.' In her original 1969 listing for No. 616, Weatherman included a sherbet, a 3-part relish dish, and a 6-inch plate, bringing the total number of items available to ten. This is probably where Stout got her information. It may have been wishful thinking on Hazel's part as they're are not pictured anywhere, but a sherbet, relish dish and 6-inch plate would certainly round out a luncheon service nicely. These pieces remained in the Price Trends lists until 1978 when they vanish without explanation. There is no mention of records that had been found proving they had not been made, or why she was no longer including them. They simply aren't listed anymore. I think it's reasonable to infer that none ever turned up and the price listings were adjusted accordingly. (Something I found interesting as I researched No. 616: In Carl Luckey's 1994 "Depression Era Glassware," he lists 15 pieces as available in No. 616. In addition to the 7 known pieces, he adds 4 different size bowls, a pitcher, grill plate and 2 other tumblers. Makes you wonder, doesn't it?)

If you're lucky enough to have a collection of "Vernon", you know that it has the sharp mold lines that are characteristic of Indiana glass. (Besides the psychological pain you suffer finding it, drinking from the cups and tumblers can inflict physical pain if you haven't carefully checked the inner rims where these mold lines lurk.) It's such a beautiful pattern, though, that you can overlook such 'little annoyances' and enjoy the way it brings life to your table. When I'm lucky enough to find a piece of No. 616, I really feel like I've found a treasure. Perhaps Hazel felt the same way about it and that's why she named it for her treasure.

Sources: Hazel Marie Weatherman; A Guidebook to Colored Glassware of the 1920's and 1930's; 1969

Colored Glassware of the Depression Era,

Book 1, 1970, and Book 2, 1974

Price Trends, 1973, 1978, 1984

Sandra McPhee Stout; Depression Glass Number Two, 1971

Gene Florence; Collector's Encyclopedia of Depression Glass, 13th

Edition, 1998

Carl F. Luckey; Depression Era Glassware, 1994