Hocking's Queen Mary
Written by Rosemary Trietsch
Welcome back, oh faithful reader! Once again, we return to the year 1936, when scandal rocked the foundation of the British Crown and the future of the monarchy looked uncertain. George V had died, and Edward VIII had abdicated the throne, choosing love over duty. When it came to Edward and Wallis, the marriage and the crown, public opinions varied widely. But people didn't waver in their love and respect for Edward's mother, who remained a dignified example of true royalty. And so, in 1936, Hocking paid tribute to this beloved figure by naming one of its new glass patterns for her, Queen Mary.
(Okay, so you don't believe me. Answer this question then: Why in the world would they give the name 'Queen Mary' to a geometric pattern when the name 'Vertical Rib'- which collectors have been using for years - fits it so perfectly? Do you think the Bradford Exchange was the first to come up with the idea for commemorative plates?)
Queen Mary was produced in crystal and pink from 1936 to 1940. The candlestick and round ashtray were also made in Royal Ruby during the 1940's, with the ashtray reappearing in Forest Green in the 1950's. Pink dinner plates, tumblers, butter dishes and candy jars are difficult to find and command high prices. Crystal is more reasonably priced, but because it's deco style appeals to today's tastes, collectors have lots of shopping competition, (probably from the same folks who have all the hard to find Manhattan pieces!)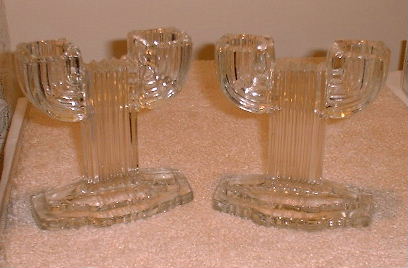 Many of the Queen Mary pieces are similar in design to other Hocking patterns. The sugar and creamer have the same oval shape as Waterford, Manhattan and Old Colony. The sherbet, tumbler, plates, and 4-˝ inch berry bowl are the same shape as those found in the Coronation pattern. Like other Hocking patterns, there are 2 sizes of cup: the smaller has a saucer with a cup ring, and the larger uses the combination saucer/sherbet plate. Yet Queen Mary has some very distinct pieces that you won't find anywhere else. The double branch candlestick is 'Y' shaped, stands 4-1/2 inches tall and is unique to Queen Mary. It's especially lovely in Royal Ruby, and a treasure worth the search. Although other patterns were sold with metal attachments, Queen Mary boasts one of the few punch sets made. The large bowl was fitted with a metal rim that held 6 cups, and a ladle was added to complete the set. Finding the metal parts in any condition isn't easy, but again, is definitely worth the search. The butter dish, though not unique in itself, can be found 'dressed up'. The glass was frosted, and metal trim was added to the lid to make it look like a crown. These were originally sold at the time of the Coronation, once again, a clever marketing move by Hocking.
Whenever someone is talking about Queen Mary, I have to stop and remind myself which pattern they mean. I used to think it was only me, but the more people I speak to, the more I find that the confusion is widespread. Although I can't speak for others, I know what mixes me up. First and foremost, the simple, vertical rib pattern is easily confused with other patterns, especially Federal's Diana and Heisey's Ridgeleigh. If you remember that the ribs in Diana twist, and that Queen Mary wasn't made in amber, you should be able to tell the two apart. As for Ridgeleigh, the price is usually the tip-off. Of course, if you should find Ridgeleigh priced as Queen Mary, (yes, it has been known to hang out with Queen Mary as well as Manhattan) BUY IT! The second point of confusion is that Hocking used the same shapes for Queen Mary as it did for it's other geometric patterns, namely Manhattan, Waterford, Old Colony, and Coronation. Keeping all those ribs straight isn't always easy, especially if you were up early setting up for a show.
But the most confusing thing for us about Queen Mary – and Waterford, Manhattan, Old Colony and Coronation as well – is the name. All of these patterns have names that don't correspond to what they look like. Collectors have been calling them by more logical names for years. Think about it: Waterford – Waffle, Coronation – Banded Rib, Manhattan – Horizontal Rib, and Old Colony – Lace Edge. Why give a name like Queen Mary to a pattern much more sensibly called 'Vertical Rib'? If you keep an historical perspective, the answer is clear. Besides being lovely, Depression glass is a part of history, reflecting the events and feelings of the time. In 1936, the drama unfolding over the future of the monarchy had people's attention. What better way to sell your glass than to tie it to 'the greatest love story of the 20th century'?
(As I write this, Sotheby's is in the process of auctioning off the estate of Edward VIII and Wallis Simpson, the Duke & Duchess of Windsor. I wonder if there's any Depression glass in the collection….)