Collecting Petalware
Written by Rosemary Trietsch
This month, we return to the Macbeth-Evans Glass Company to explore Petalware, one of their earliest complete dinnerware lines. First introduced in 1930 and continuing into the 1940's, Petalware had the longest production period of any of Macbeth-Evans original patterns. It is the pattern that supplied continuity when Corning Glass Works purchased the Macbeth-Evans Glass Company in 1937. But I'm getting ahead of myself, so let's back up a little….
From its beginning in 1899, Macbeth-Evans focused on the production of glass for illumination, science, and industry. Recognizing the potential for profit, they began experimenting with various table items in the late 1920's, and introduced their first complete dinnerware lines in 1930:American Sweetheart, Dogwood, S-Pattern and Petalware. Somewhere around 1933, they began using Monax, a translucent white glass they created for lighting fixtures, in their tableware. It proved to be the perfect medium, and Macbeth-Evans was able to produce seemingly delicate glassware that was strong and durable. In 1937, the company was bought by Corning Glass Works of New York, who continued to operate it as the "Macbeth-Evans Division of Corning Glass Works in Charleroi, Pennsylvania." At this point, all the early dinnerware lines were discontinued with one exception: Petalware production continued. In fact, Corning expanded the line by adding decorations to the colors Macbeth-Evans had been producing. But again I'm jumping ahead of myself. Two steps back….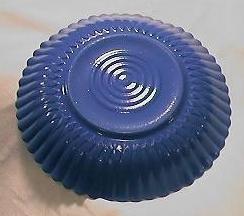 In 1930, Macbeth-Evans introduced Petalware in crystal and pink. Macbeth-Evans' pink is a very light, almost blush color that's sometimes hard to recognize as pink, (especially if the piece has been sitting in the cabinet over the stove since 1930 and has acquired that lovely brown coating of grease.) Within a couple of years, they added the Monax color to the line, and in the mid 1930's, sets were made in all over fired on colors of red, blue, green and yellow. These sets included one place setting in each of the four colors and serving pieces were available in any of the four colors so you could customize your table decor. Cobalt blue glass (not fired on blue) was also used, but in a very limited production. Only the 9-inch bowl, 4-½ inch sherbet, sugar & creamer, and covered mustard jar can be found in cobalt. The lid for the mustard jar is metal, which means that these pieces were jobbed out to another company who added the metal parts. This same company may have asked for a few cobalt pieces to sell along with the covered mustard, which would explain the limited cobalt production. Or maybe Macbeth-Evans ordered the lids to complete their experimental cobalt sets. We may never know for sure, so I'll leave it to you to decide.
In 1937, when Corning took over Macbeth-Evans, they had a definite plan in mind and Petalware was the crux. (I'm sorry, I jumped ahead again…. back up once more….) In the late 1930's, porcelain dinnerware was quickly becoming the "In thing." Corning wanted to join this growing market by creating a dinnerware that combined the look of fine china with the strength and low cost of glass. Monax Petalware was the perfect medium, and by changing the formula slightly, they were able to produce a cream colored glass that looked like fine bone china. This ivory Monax was called "Ivrene" in the 1939 catalog listings, but we've come to know it by the later name, "Cremax." (Technically, Cremax referred to the cream colored dinnerware with the plain, piecrust edge. It looks like Chinex without the scroll design.)
By adding various decorations to these two colors, Petalware suddenly took on a new character. Sets were sold trimmed with colored bands of pastel pink, blue, green and yellow, with red was sometimes used instead of pink to make primary color sets. Corning completed the sets by adding their own clear glass tumblers decorated in the same colored bands and marketed them as "Corning Monax Pastels" and "Corning Ivrene Pastels". Decorations were taken one step further when 22-karat gold trims were added to make more formal looking Petalware table settings. "Regency" Petalware has a design of golden flowers around the rim of the plates, and "Coronet" has small crowns and fleur-de-lis around the inner rim. Even the names suggest the richness and elegance of fine china. The Macbeth-Evans division of Corning had achieved what they set out to do: They created a tableware with the look of china and the strength and low cost of glass.
Decorated Petalware is as popular today as it was when it was first introduced. Perhaps the most sought after decorations found on Petalware are the hand painted designs of the late 1940's. There are two distinct floral patterns, both of which are found only on Monax. Florette has green leaves and red flowers that can have either pointed or rounded petals. Mountain Flowers has red trim on the edge of each piece and a spray of foliage that includes red, blue, and yellow flowers with green leaves. Again, these two are easily confused. (Remember that Florette has only a red flower, while 'Mountain Flowers' is a plural name and includes three different flowers.) With patience and luck (and unlimited funds) you can put together table settings in Florette or Mountain Flowers and you may also find clear tumblers in the same designs. Like those found with the pastel-banded sets, these were "Famous Corning Chip-resistant tumblers" added to Macbeth-Evans Petalware to create complete tableware sets.
Some time after 1948, Petalware plates were sold with other hand painted designs. Birds, flowers, and at least four different fruit designs were sold in eight plate sets. Christmas decorations, advertising and commemoratives have also turned up…so far. After all, when a pattern is made for almost 20 years, the odds are good that there are designs we've yet to uncover. Watch for them and let's see what we can find.