"ROSEWATER GLASS" from Anchor Hocking
(Submitted by Mark Rossman, NJ)
When did ROSEWATER colored glass dishes from Anchor Hocking sneak their way onto the glass market? As near as I can determine, sometime between 2000 and 2004, Anchor Hocking managed to put out a small line of PINK glassware. The color was officially called "Rosewater". Rosewater colored glassware must not have been promoted too well, as I haven't seen EBAY full of people selling it as "Depression Glass" and have only seen a few pieces of it at glass shows. In any case, usually the owners of the glass got it through another source like an auction or house sale, or as dealers they lied through their teeth about picking it up at sources like TARGET, BIG LOTS, TJ MAXX or other stores that carry a glass line for about six months and then when it is through don't (or can't) reorder so that you can get more.
The most I can say about Rosewater colored glassware is that it seems quite sturdy and able to take a bit of dishware abuse. Clinking against other glass, dishwashers, and sink taps doesn't seem to chip the pieces easily. Sturdy to use, it is a beautiful shade of pink, with a slight range in hue from pinky-pink to an almost pink-with-tinge-of violet: the difference being what glassware line you are choosing from.
I've found Rosewater to be pressed out in four lines named by Anchor Hocking, with crystal also being available in the same lines (too bad they didn't put out a nice apple green color too). Whether or not other lines of Rosewater glass are out there waiting to be found (it might have been done by regions for the country) or whether they still make the Rosewater color is information that I'm still trying to garner. The sad fact is that most of the online companies that carried it say that the item is "DISCONTINUED" when I tried to order anything. I would love it if Anchor Hocking would answer one of my letters of inquiry with the information I seek, but so far they remain silent.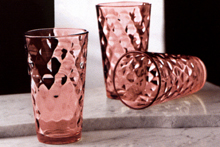 Argyle
Carlyle
Three of the lines of Rosewater only encompass a 15-16 ounce Iced Tea Tumbler and a 10-12 ounce On-The-Rocks Glass. The Hocking named lines are: ARGYLE - the pattern is a quilted effect over the entire glass; CARLYLE - this is a Block Optic look-alike with the blocks running from the base to top of the glass (it's great - too bad there isn't any more); and the third pattern is DOMINO - a mild "quilted" effect from a distance but has lines of large dots running in columns on the glass sides. All three patterns seem to be well done, not thin at all and very sturdy.
Domino
Annapolis - Pink
The most extensive line of Rosewater to talk about is called ANNAPOLIS. The Annapolis line was available in both crystal and the Rosewater color and seems to be a modern remake of the old Depression glass "Coronation" pattern that was made by Hocking from 1936 to 1940. Annapolis seems to have been sold in sets, by the piece, or in services of four. Sturdy and strong, Annapolis in Rosewater color also seems amazingly pure and clear without bubbles, striations, or straw marks appearing in first quality pieces. The color rosewater could go along with many china dish patterns, so the tumblers and stemware to the set could have a use other than for an all glass table. Pieces available in ANNAPOLIS ROSEWATER are:
8" and 10" plate (more like 7" and 9")
10 oz. footed sundae/sherbet
6.5 oz. bowl
12 oz. on-the-rocks
16 oz. flat ice tea tumbler
16 oz. footed soda/ice tea glass (reminds you of soda fountain malt glass)
Unknown oz. stemmed water goblet (probably 9-10 oz but I couldn't verify this)

My hopes are that Anchor Hocking will someday again press out the Rosewater color, but the next time I hope they promote it better than they did on it's first outing.... Most who see Rosewater like it instantly because it's a nice pink, it's sturdy, and if a piece does break you can put your guest at ease and say "it's new" and not that expensive (pieces originally cost from 2.49 to 3.29 per piece). If only Anchor Hocking would make apple green colored items again, especially canister sets and tumblers…. sigh!!!!!!