RING LOOKALIKEs - Everyday from Martha Stewart by Mark Rossman


I'm finally down to my last green "ringed" Iced Tea Tumbler. Over the last few years, my green tea tumblers have served me well, and at about 16 ounces when filled, certainly sustained my thirst for any beverage. I was just at a flea market and saw another set of 4 tumblers, but with a tag saying "Depression Ring Glasses - $40.00" made me a little annoyed. Those in the know saw these types of tumblers at KMART from about 2000 to about 2004, and like many goodies at KMART, were by Martha Stewart Enterprises.

In order to educate the collecting and buying public, I want to let all know that the pictures of "Ring" and "Starburst" glasses show those types of tumblers one could get at KMART. They are NOT depression glass, just a modern day "looker" for those that like green glass to use. For a couple years I could have bought most of the 4 per package tumblers at $4.88, but by the end of their run they were trying to get $8.88 for a four pack.

The Ring lookalike tumblers were decent, althought the ice teas had to be handled carefully.....too hot a water for washing and they cracked fast. I even had one glass crack with a triangle shaped hole down near the bottom, the rim was fine, but yet there was a hole at the bottom. Items available in the Ring style included a footed goblet, ice tea tumbler and an "on-the-rocks" type of tumbler. As you can see by the photos, the coloring was nice and could go with many table setups, using either glass or china dinnerware.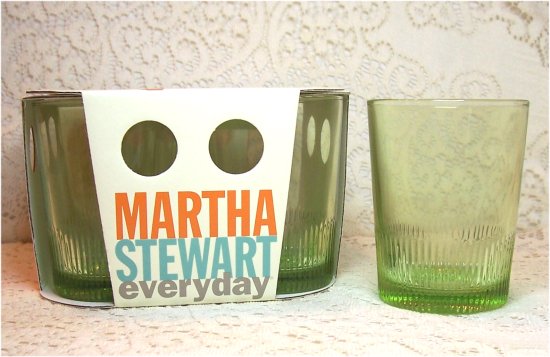 The Starburst glasses came in both an ice tea and on-the-rocks style tumblers. I only noticed a very short run of these types of tumblers. They ran just a tad darker in appearance from what, I believe, was that they were "thicker" than the Ring style.

Most of the tumblers will has a very light "MSE" for Martha Stewart Enterprises stamped in the bottom. So, if you are new to collecting and have a little doubt about the tumblers you are trying to buy, if it has an MSE, it's newer than depression-era.

Submitted by Mark Rossman

HOME