An Introduction to Canadian Brilliant Period Glass
by Christopher and Marie Kierkus
A Sugar and Creamer Signed "Dingwall"
This small sugar and creamer set (circa 1905) is cut in a simple hobstar pattern; however, the quality of the
glass and the workmanship is the best we have seen on a Canadian piece. It is comparable to the best
American brilliant period glass. It is signed by Dingwall, an agent for the Gundy-Clapperton company.
(retail value: $150)
Many antique glass enthusiasts are familiar with the "American Brilliant Period" (ABP) of cut and engraved glass. A two-part article describing this style of glassware can be found in the back issues on this website. The ABP lasted from approximately 1880 to 1920. It was part of an extravagant style of decorative arts introduced by Victorian era millionaires. These individuals were eager to demonstrate their wealth and power by acquiring and displaying a variety of spectacular objects. Collectors of ABP glass are no doubt familiar with names like Dorflinger, Libbey, Hawkes, Hoare and Clark. These firms produced some of the finest cut and engraved glass in history. However, few collectors know much about companies like Gundy-Clapperton, Roden Brothers, Gowans-Kent and the House of Birks. These Canadian firms produced or distributed glassware that rivaled ABP products. The goal of this article is to introduce the reader to Canadian Brilliant Period (CBP) glass. We would like to show that CBP products are also worthwhile collectables.
A Leaf Shaped Nappy Signed "Gundy-Clapperton"
This leaf shaped "nappy" (or candy dish) is marked with the post-1920 version of the Gundy-Clapperton Signature
(the letter "C" inside a shamrock). It illustrates that Canadian companies continued to cut purely geometric
designs long after most American firms had discontinued the practice. This is a mediocre quality piece
that has a few chips, however, the interesting shape gives it a moderate value.
(retail value: $60)
Prominent Canadian Brilliant Cut Glass Companies
There are four prominent producers and distributors of CBP glass that the collector should be aware of. Unlike some American firms (like Libbey, Dorflinger and Hawkes), Canadian firms did not manufacture their own blanks: they imported blanks from the United States and Europe. Canadian glass patterns tend to closely resemble those cut by American companies, although, because most Canadian firms were founded later than American firms, they tended to be slightly "behind the times". For instance, most American firms stopped cutting geometric designs by 1910; however, some Canadian companies continued to do so well into the 1920's.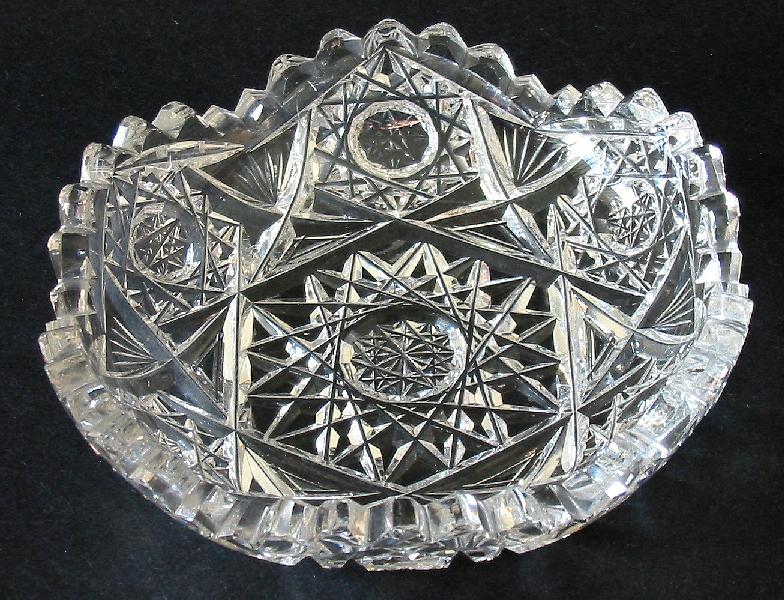 A Small Dish Signed "Birks"
This small hobstar and fan pattern dish (circa 1915) is signed by the House of Birks.
It is acid polished and cut on a mediocre quality blank.
(retail value: $40)
The Gundy-Clapperton Company
This is the most well known Canadian firm. It was founded in 1905 by C.H. Clapperton, a glass cutter who had previously worked for the Libbey Glass Company in Toledo, Ohio. Clapperton was joined by N.F. Gundy approximately one year later. The Gundy-Clapperton company operated in Toronto from 1905 until 1931. Pieces made by this company were usually signed with a shamrock containing either "G, C and Co" (prior to 1920) or simply "C". The words "DINGWALL", "G B ALLEN VANCOUVER" or "Birks" (inside a diamond) sometimes accompany the company mark. Gundy-Clapperton made both geometric pieces (which frequently resembled Libbey products) and high quality "intaglio" pieces. There is evidence that this company continued to hand polish some of their products as late as 1913, by which time most American firms had switched to the cheaper, but less effective, acid polishing technique.
An 8" Fruit Bowl Signed "Roden Brothers"
This hobstar and fan bowl is signed by the maker and dates circa 1905. The glass and the cutting
are both high quality. It has a sizable chip on the left side which reduces its value by about 50%.
(retail value: $70)
The Roden Brothers Company
This firm was founded in Montreal in 1879 as a jewelry and silversmith company. Around the year 1900, they opened glass cutting shops in Toronto and London. Early Roden Brothers objects were signed "Port & Markle" (inside a circle) while later items were marked with a gothic style "R" flanked by two lions. This company made both high quality geometric pieces and mediocre quality floral pieces.
The Gowans-Kent Company
We were unable to uncover a great deal of information about this Toronto based firm; although it appears that it was founded just prior to the turn of the 20th Century. Gowans-Kent pieces were marked with the word "Elite" inside a Maple Leaf and Circle. We have seen both purely geometric and floral-geometric items manufactured by this company. The quality of the glass appears to be excellent on all of their pieces.
A Small Dish Signed "Gowans Kent"
This small dish (circa 1900) is signed with word "Elite" inside an encircled maple leaf.
It is decorated with a simple hobstar and fan pattern but it is hand polished and cut on a high quality blank.
(retail value: $75)
The House of Birks
To the best of our knowledge, the House of Birks did not manufacture brilliant period glass. However, the word "Birks" (inside a diamond) appears on many CBP items (either by itself or in combination with signatures used by the other companies). The House of Birks was a jewelry company that distributed CBP glass in the late 19th and early 20th centuries. As such, it was much like the American distributor, C.G. Alford and Company, which used a similar signature (the word "Alford" inside a diamond).
An 11" Tall Floral Pattern Bridal Basket Signed "Roden Brothers"
The simple floral decorations on this piece suggest that it dates from the late brilliant period (circa 1920).
Bridal baskets are a relatively uncommon item. Moreover, the basket is signed and is in excellent condition,
these features give it a substantial value.
(retail value: $175)
Concluding Comments
We hope that this article has piqued your interest in CBP glass. We have found that Canadian antique malls are fantastic places to hunt for "bargain treasures". We have traveled throughout New England and the American Midwest in search of brilliant period glass and have found that prices tend to be about 50% higher than in Southern Ontario (taking the current exchange rate into consideration). Admittedly, the selection tends to be better "South of the border". Most brilliant period glass is sold close to where it was originally produced (for instance, Ohio is a great place to shop for Libbey glass, Central New York for items made by Hawkes, and Pennsylvania for Doflinger pieces). However, if you want to add a few pieces of CBP glass to your collection a trip to an Ontario antique mall would probably be your best bet. Happy hunting!