Fostoria Bells
Written by Milbra Long
The Fostoria Glass Company made bells for Christmas, Mother's Day, Valentine's Day, weddings, and other special occasions. They also made bells to coordinate with some of their major designs.
In checking through Fostoria catalogs, I was surprised to find no bells listed until 1977. In that one year bells were added to four main patterns: Sheffield, Richmond, Serenity and Navarre. The same blank was used to make Sheffield (with platinum band) and Richmond (with 18k gold band). Serenity was offered in yellow, blue and crystal. Navarre bells were available in pink, blue and crystal. The blue Navarre bell is especially elegant.
A catalog for January 1979 shows a Mother's Day bell. Made of thinly blown crystal, this bell has a picture of a mother holding a child. The picture is etched in an oval frame, surrounded by scroll-like flowers. Above the oval is etched "Mother's Day 1979." (See bell #9.)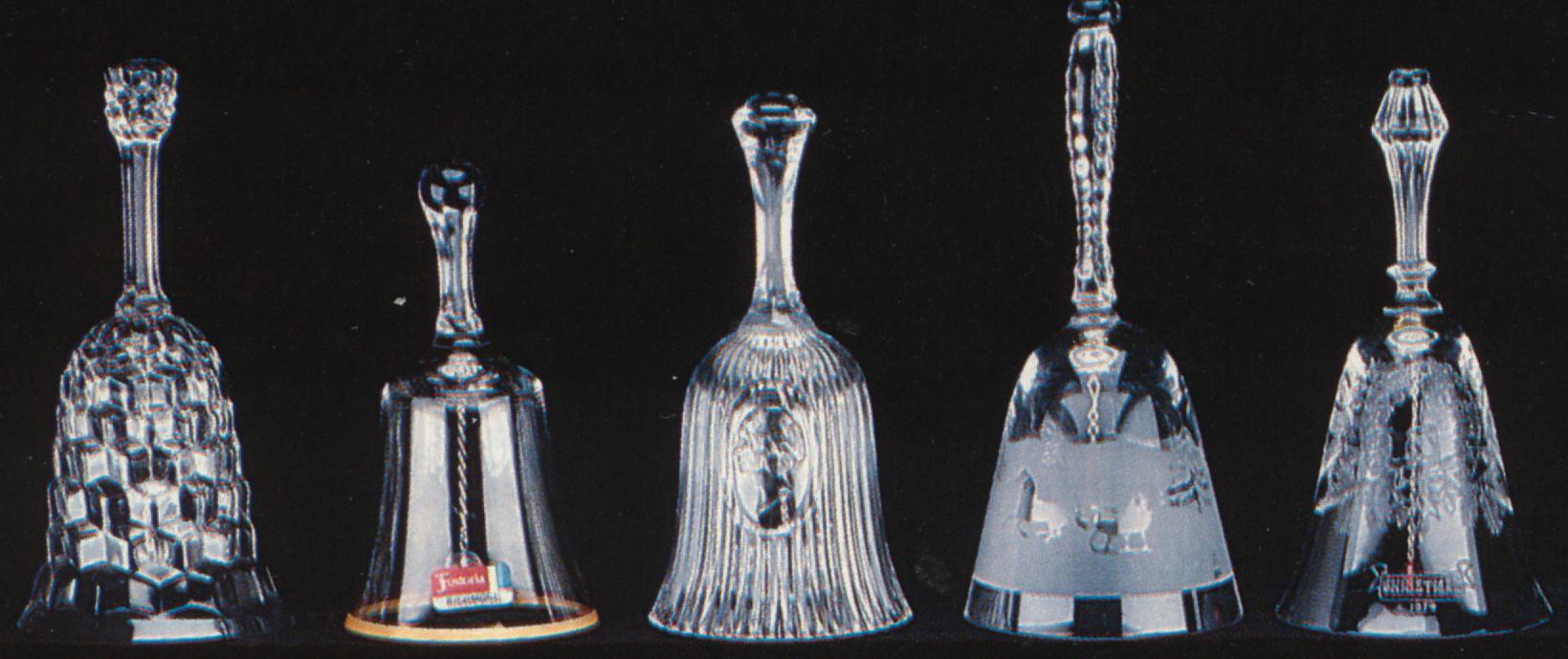 Left to Right (numbered 1 - 5) #1. American No. 2056 #2. Richmond (Gold Band) #3. Cameo (Was available in the Gift Shop) #4. 1977 Christmas #5. 1979 Christmas
The 1978 Mother's Day bell is not listed in a catalog or price list. These were probably sold through the outlet stores. In 1980 a Love Bell is listed and I believe this is a Mother's Day bell, although I have not seen one.
The advent of the Wedding Bell occurred in 1979. This unusual bell is shaped like the figure of a bride, the handle being the top part of the body and the bell itself serving as the flared skirt of the bride's dress. The soft silver-mist finish covers the top and about one-third of the bell, gradually fading like a bridal veil.
The American line, No. 2056, added a bell in July 1981. This bell is truly a tribute to the American pattern. Instead of being the expected heavy pressed piece, it was blown into a mold to produce a bell that is very thin, light and simply exquisite!
In the same year (1981) Fostoria offered a Ruby bell, "Twas the Night Before Christmas," with a frosted crystal handle. Although introduced as the first of four limited editions, I believe this was the only one made before the production of handmade crystal ceased at the Fostoria factory.
Left to Right (numbered 6 - 10) #6. 1980 Christmas #7. 1981 Christmas (Ruby) Limited Edition #8. 1978 Mother's Day #9. 1979 Mother's Day #10. 1980 Avon Navarre on a No. 6026 stem
To see more Fostoria Bells click here
A bell in the Kimberly lead crystal pattern with a gold metal handle was shown in 1985. In 1986 the Moundsville Chamber of Commerce bought plain Fostoria blanks and had a replica of Fostoria's old brown label etched on one side. Under the label are the words, "Moundsville, W. Va., Feb. 28, 1986." This was the date the factory closed. These bells also have a gold metal handle.
Fostoria made a ruby-flashed Coca Cola Calendar Girl Bell taken from an original 1891 calendar. This same blank was used for a "Love Birds" bell dated 1987 and sold through the outlet stores after the factory closed. A "Peace on Earth" Christmas bell dated 1986 also used this blank. All of these ruby bells have the etched "F" for Fostoria, however, few of the other designs were marked.
A Fostoria bell with an etched winter scene, horse-drawn sleigh and fir trees, is dated 1977. I have not found this one pictured or listed. It is on the Silver Flutes blank so is bound to be Fostoria. Only a few of these bells have the "F," most are not marked.
Since so many Fostoria goblet stems lent themselves to bell handles, I would speculate that bells were made in many of the older patterns either for the gift shop or as whimsies by the employees. It would be possible to put together a lovely collection of Fostoria bells since they are of such recent vintage. The one in the American pattern might be a bit elusive since it was made for less than 18 months. The pink Navarre was only in that line for a couple of years, whereas the blue and crystal Navarre bells were made from 1977 to May 1982. I have had bells in Chintz and Heather, but they got away!
Milbra Long is a well-known dealer and write in the field of elegant glassware. She operates Milbra's Crystal.