Caprice Reproductions - Summit Art Glass/Fenton by Mark Rossman


One of the most coveted patterns of Cambridge Glassware of Cambridge, Ohio is the Caprice pattern of glass dishes. Made from the early thirties up to (and after) the closing of Cambridge in 1958, Caprice is a truly beautiful pattern, reminiscent of ocean waves (henceforth the name Caprice). Made in predominantly crystal and a light moonlight blue color, Caprice can also be found
in pink, a light pistachio green (too bad they didn't make more of that), mocha, gold krystol, cobalt blue and with the Alpine treatment, which is acid etching a section of the main body to give a frosty look to the color of glass the piece was cast in.

Imperial Glass bought up Cambridge after it's closing, and proceeded to have the molds in it's possession until 1983, when many of the greatest molds in the world: Cambridge, Heisey, and many Imperial were sold off at auction (and some privately) to the highest bidders. Fortunate were the Fenton glass company (for vases), the National Cambridge Collectors club (various Cambridge molds) and Summit Art Glass, the last getting some of the best Caprice molds for everyday service ware.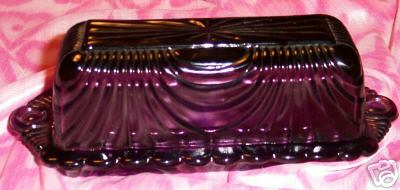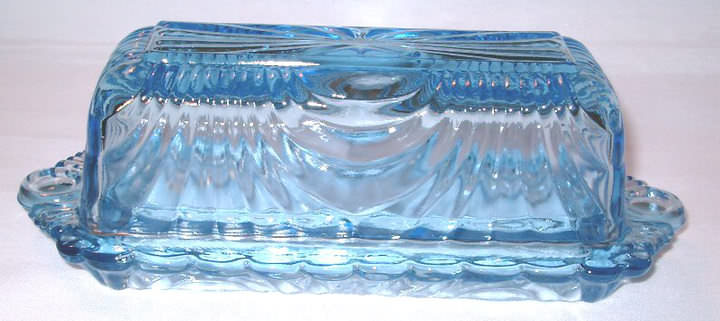 Summit Art Glass located in Ravenna, Ohio is a nice, private glass company that contains some of the best Cambridge molds (among other companies many original molds). In 1988 I had the rare opportunity to spend 5 hours at Summit with my Mom mostly talking with JoAnn Vogelsong while picking out some reproduction Caprice. JoAnn and her husband Russell are the owners of Summit Art Glass Company (hereafter referred to as Summit or SAG), or at least were in 1988. JoAnn and I talked about the molds, along with the some of the problems they encountered bringing Caprice back on the market. Back then a sordid few people were really griping about Summit bringing back some of the Caprice pieces, and were causing the Vogelsong's some anguish.

They were making their Caprice in Cobalt and a darker lighter blue than the original Moonlight of Cambridge, which they called
Sky Blue. Russ also was having a dot put into the mold to distinguish new from old, which gripers complained could be easily ground off. JoAnn said to teach a lesson they ran a lighter color of blue to almost match the old Moonlight, which they called
Morning Glory Blue. Good Enough, the gripers retreated and Summit returned to making Sky Blue. The main piece which everyone was afraid of them reproducing was the Caprice Dinner Plate, as in 1988 it was around $115.00 to get on the secondary market in original Moonlight. To date, I don't believe I've ever heard or seen of a reproduction dinner plate from Summit. Summit however has market some of the items listed below, even though they have more molds in their possession than what I list:
All molded, not blown:

Stick style Butterdish - very important - Cambridge didn't make this in Moonlight - the ones showing on EBAY
are Summit butters, many done in the 1980's


Tall straight Ice tea tumbler


Medium height water tumbler


Sugar Bowl


Tall footed sherbet


3 section cloverleaf relish


3 section inline relish


Footed cake plate


Salts dip (believe it's Summit, although question if it's another company)


2 section salad dressing (although there is not center handle, that was another mold SAG did not get)


Footed Water Goblet


Footed Juice Goblet


3 lite inline candleholder


Small bowls


I was able to get most of the pieces in Sky Blue, with just a few samples of the above in that Morning Glory Blue that
SAG cast just to show what they could do. The one thing that is unfortunate was that in the 1980's and 1990's (I don't know
about currently), SAG did not have the greatest fire polisher going (if one at all). Most all my Sky Blue ware leaches a
greasy film when the glass sits awhile. I can give a tumbler a bleach and water and have it squeaky clean and set it
on a shelf yet a month later when I touch the piece it's got a greasy sort of feel. Sky Blue and cobalt also seem to have a
number of bubbles, "sand pits" and striations within the glass, so it's quite easy to tell from original Caprice (which has a great clarity, very few bubbles ever, and an occasional striation in the pattern). A vaseline color has also been introduced . Be very careful on EBAY, people listing SAG Caprice usually cover that it's new by just saying "from original Cambridge mold" or "original Cambridge Pattern Caprice" which is true, but not in the sense that the original Cambridge Glass Company MADE THAT PIECE you are bidding on. My visit to SUMMIT was one of the greatest times I had in 1988, when I went touring the existing glass companies/glass museums in the Ohio, Pennsylvania and West Virginia area (the tri-state hub of some of the greatest depression and elegant glass companies EVER in the USA).

Fenton Art Glass Company has been making a number of various style vases of Caprice, in colors never done before (like cranberry, vaseline, etc). Fenton uses a blown vase, so it is thinner glass than Summit's molded type items, and Fenton can
also crimp the edges of the vases for effect too.

I want to Thank JoAnn Vogelsong for that great day back in 1988, her time and patience and sweet manners were so appreciated at that time, and still after almost 18 years. On a sad note though, on another web site that sells Summit Glass
I noticed that they mentioned the passing of Russ Vogelsong back in late 2005. I offer my condolences to the Vogelsong family.

Mark Rossman in NJ