PINK DEPRESSION GLASS - No, it's ROSALINE from ARCOROC
by Mark Rossman


In the early 1980's the first "wave" of depression glass was coming into vogue to collect. Grandma was either selling her house she had lived in for 40+ years or family was passing out things to inherit from Grandma. Pink Depression glass made it's high point from the late twenties into the mid-thirties, with a quick resurgence in the late 1940's. Made by all the glass companies at the time, pink was cast in many hues, from light pink to almost a dark peachy pink, depending on how long the glass companies let their batch glass "cook" and what quality controls were in place for color stabilization. Machine molded, pink depression came in hundreds of shapes, mold etchings, and pieces.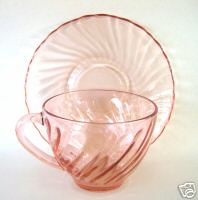 The sudden resurgence of wanting "pink" dinner glassware brought about a new line from ARCOROC, which seems to be a division of J.G. Durand. Many pink pieces are stamped ARCOROC or Made in France. The pattern with the greatest amount of
pieces and sales seems to be a line that was called ROSALINE. Made in tempered, microwave/freezer resistant glass, ROSALINE is a swirling lined pattern on all upright pieces, with plates having a swirl edge and a flat plain surface.
In 1981, I purchased two sets of four (20 pieces in each box) and a pitcher and tumbler set (7 pieces) that cost $11.88 each at that time at WOOLCO's department stores (a subsidiary of Woolworth's). The SAME twenty piece set was selling for $44.95 at MACY's at the time, so Woolco's got my business. Over the next few years I saw ROSALINE made in a number of other pieces: goblets, tumblers, bowls, mugs and platters.
The last I saw ROSALINE in regular stores for sale was in 1989, when MACY's had the only coffee mugs that I had ever seen on sale from $4.99 down to $2.00 each. That was the end of my limited world of ROSALINE. Then came EBAY, and all of a sudden I started seeing pieces in ROSALINE that were not either marketed in my part of the country or that I just didn't see in the few stores I frequented for it.
To date, I have seen or heard of the following pieces (sorry, don't have ounce sizes or inches for measuring):
Plates:
Dinner
Luncheon
Platter (round and oval)

Bowls:
Large Salad (sometimes with a sterling ring base)
Medium Size Master Berry
Flat Soup with Rim
Soup without Rim
Cereal Bowl
Berry Bowl
Small bowl (usually in a silverplated holder, two with a spoon hanging in center for relishes)

Pitcher - upright with half handle, very modern

Tumblers:
Tall flared Ice Tea
Tall Water
Medium Water

Goblets:
Water
Wine
Flute Champagne
Champagne or High Sherbet
Cordial/Claret

Cup and Saucer
Mug - straight sided


ROSALINE is extremely strong and hard to chip. I one time knocked a mug off a tall safe top onto a tile floor and the piece bounced and didn't break or chip....WOW! When giving discussions about depression glass I used to show a piece and hit it
against a desk top to show how strong it was (I DON'T RECOMMEND anyone doing that). Rosaline plates stack well against themselves, just like how nicely Corelle ware stacks and is a great alternative to using paper plates at parties because they are light enough, durable and people can stack food without the piece folding on them like paper plates do. The only thing is you have to wash them afterward (GRIN). I don't recommend using the dishwasher with ROSALINE, although it's safe to do so. Over time, the dishwasher leaves a sort of whitish cast to the glass, really from destroying the finish with water jet action.
So, if you are buying swirled pink glass at your next flea market or garage sale and it says MADE IN FRANCE or ARCOROC on the bottom, it's really newer 1980's ware, not French DEPRESSION glass from the 1930's.

Submitted by Mark Rossman, NJ


Index